Why do elderly people have such big ears? Are my ears gonna be that big some day? I'm pretty content with the way my ears are now. Also, w
hat are libraries still around for? Do we still even need them? I only see homeless people outside in the morning waiting for it to open. Are they shelters now?
Ever have such a weird dream, all you wanna do is wake up from it? But then when you do wake up you're like nah I wanna sleep more, just gimme a different dream. And then the next one is kinda even more weird? That was me this morning.
Oh, when we were at breakfast the other day with that awful waitress we had, we
over heard people talking about 2 priests that got in trouble for some stuff (prob the usual!!) and they got sent out here to California to be like "reinvented" or some shit. And they go, "we're so happy they got a other chance." WTF! No. Just, no.
I saw this guy the other day, yes guy, wearing scrunchie socks. Remember those?! In case you were not blessed to be a legit 80's/90's child, (I say legit because being born in 1995 doesn't make you a 90's kid, stop it.) I'll show you what they are...
Ah, layering the different colors was so fun.
And now I miss snap bracelets....
Oh and I remembered late last night that today was "Boy Behind The Blog" link-up. So I made him answer these questions when he was half asleep. Next month I'll do better.
What would you do with $1,000,000?
That's a tough question, a million dollars isn't a lot of money so... pay off bills and buy a company. No, actually, buy a lion and a bunch of steak.
What is your dream job?
stand up comedy
he's on the right path.........
Who is your celebrity crush?
Katy Perry
(which I am ok with
because
I love her and yes she is beautiful. He used to like Jessica Biel, barf!)
Favorite sports team?
Patriots.
(I'll go ahead and add ALL Boston sports teams).
What was your AOL/AIM screenname?
chase02131
Riveting answers.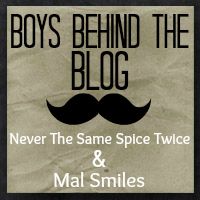 Oh and one more thing. Jenna's video today had me dying hahahaha
just kidding, ONE MORE THING.....
My first giveaway!! Guys, I teamed up with some other awesome bloggers over on Vintage Sunshine for a Target gift card giveaway. Did you let that set in? TARGET.GIFT.CARD. Target, where all our bank accounts go to die. Enter for this giveaway and maybe you can keep 85 bucks in your bank.
------------------------------------------
Buy the kiddos those last minute school supplies, an outfit for picture day OR treat yourself to some "my kids are finally back at school" alone time at Target! Thanks again to my awesome July & August sponsors for helping share this fun prize with you! Good luck!