Today, Taylor at The Daily Tay has a first time link-up today of "Someday I Will..." Oh my gah, where do I start!?! I think most us tell ourselves very often that we're gonna do something and then we don't. So let's start with someday I will stop lying to myself. Like when I tell myself that I'm gonna stop eating potato chips. Lie. I tell myself I'll stop hitting snooze so much and get to work on time. Lie. (Okay but I really need to work on that one!)
Someday I will travel the world.
Someday I will win the lottery so that I can travel the world.
Someday I will own a dog again. Preferably a frenchie :)
Someday I will learn to keep my closet clean and not pile clothes on the floor of it.
Someday I will stick to eating clean and working out. (I've fallen off recently, hashtag fail).
Someday I will learn how to surf.
Someday I will skydive.
Someday I will fly in Virgin Galactic.
Someday I will do all these things, just not today.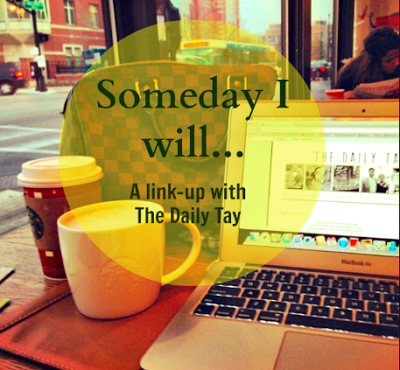 ------------------------------------------------------------
Now, I want to show off a blogger who is a wife of a fireman!
Libby is a photographer who also seems to be a DIY pro! Check out this post on canning her homemade apple sauce. She also picked her own pinot noir grapes to make wine! What?! I wish she was my neighbor! Libby has two cats and a dog, hi, animal lovers unite! She loves music, thrifting, baseball and wants to own a horse someday. And she is my sponsor spotlight this week! I asked her a few questions so we could get to know her a little better...
Why did you start blogging?
I started blogging because I had started a new job and had a lot of changes in my life. Blogging was a way that I could document what was going on with me, while building a new sense of community with fellow bloggers. I love to write, do photography and do lots of different projects, and blogging really helps me combine all of the things I love.
What is your blogging goal?
My goal is to continue to share diy projects, recipes, trips, and my daily adventures as a wife of a firefighter/paramedic. I hope for my little piece of blogland to continue to grow readers and I can gain an even larger community of friends. Blogging is one of my creative outlets, when work is so black and white and sit at a desk and write emails, blogging lets me be me and gives me a place to share my thoughts, dreams, and stories.
How did you decide what kind of photography you wanted to get into?
I love all types of photography. My mom took millions of photos of my brother and I as children, and my father in-law almost always has a camera nearby. For me, photography is my hobby, what relaxes me, and one of the ways I get to express myself. Whether its gorgeous scenery, a beautiful portrait, or an exciting sporting event, I love capturing those memories to hold on to. I love portraits because they capture beauty, age, and a moment in time that can never be recreated.
Tell us two random facts about yourself.
- When I was little, I always dreamed of being a professional singer - yet I am too embarrassed to even Karaoke in front of anyone (that makes the perfect recording artist right?!?). But you will find me belting out songs at the top of my lungs in the car!
- Growing up, my mom was a Jazzercise instructor and I would get to go on stage and lead routines with her. If she ever forgot the choreography, I always remembered. This is probably why my friends won't play Just Dance with me anymore because I can remember all the moves without even trying.